The BM mark (Business Machine) can be found on the labels and manuals
of several japanese calculators during the 70s and 80s.
This mark was issued by the Japan Business Machine Makers Association (JBMMA) in 1974 when the export volume of calculators passed the mark of 10 millions units.
This system guarantee the high quality and reliability of the calculators and prevents the export of poor quality calculators by unknown manufacturers.




The original mark

The mark for the international market


These two articles in japanese: Establishment of quality certification system for calculators and Calculator Quality Certification System (BM Mark) give some explanations about the mark. These articles can be roughfly translated and resumed by:
The calculator quality certification system was established in March 1974 by 14 member companies of the calculator subcommittee after a two-year preparation period. It was established with the aim of supplying calculators that users can use with peace of mind by preventing deterioration in quality, performance, and after-sales service that tends to occur due to excessive competition in the calculator industry.

(1) Producer certification and (2) Quality certification of individual products were performed, and if these two were passed, the "BM mark" could be attached with the permission of the industry association.

(1) Producer certification examines the calculator production factory itself, and entrusts it to a public third party organization (Mechatronics Inspection and Certification Association). (2) Quality certification of individual products is certified by the industry association. It was a system in which the examination committee strictly checks the inspection data based on the standards and test standards.

This system was abolished at the end of March 1985 because the technical level and quality assurance were established by the operation of this system.
*
This French advert gives some additional information: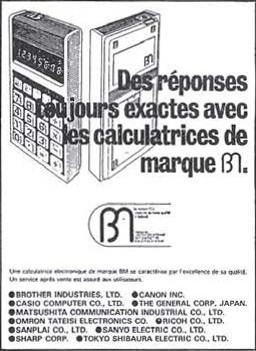 "Answers always accurate with BM mark calculators."
"An electronic calculator with BM mark is defined by his excellent quality.
An after-sales service is guaranteed to the users."
*
The companies part of the Association are the following:
Brother

Canon

Casio

General

Matsushita (Panasonic and National)

Omron

Ricoh

Sanplai (Sanwa, Towa and Sankiden)

Sanyo

Sharp

Toshiba
The mark can also be found on some other brands (but made in Japan):
Ace (by Casio)

Aristo

Electro Calcul
Hemmi (by Brother)
Kokuyo (by Sharp)
Olympia (by Matsushita)
Privileg (by Sanyo)
Sperry Remington (by Casio)
TEC
Topix (by Matsushita, Omron)
Triumph Adler
Unitronic
An interesting thing: the logo is also present on Sharp calculators made in Brazil:



and on a Sanyo calculator made in Spain:


The mark is also present on all Sharp calculators made in Korea.